MOLECULAR CHARACTERIZATION OF ANISAKID NEMATODES HYSTEROTHYLACIUM SPECIES FROM JAPANESE THREADFIN BREAM NEMIPTERUS JAPONICUS (BLOCH, 1791) (PERCIFORMES, NEMIPERIDAE) FROM IRAQI MARINE WATER FISH
Keywords:
Anisakid, Arabian Gulf, Molecular characterization, Nemipterus, Japonicus
Abstract
The present study provides a new insight into valuable information on the diverse structure of the Anisakid population and discusses the limited species richness in the Nemipterus japonicus (Bloch,1791) (Perciformes, Nemiperidae). The fishing area consists of various locations in the Arabian Gulf (29°58 0 33 00 N48°28 0 20 E). A total of 315 marine fish were examined, (n=287) were infected. Larval stages (n= 763) encysted within the mesenteries peritoneum and viscera of fish organs were isolated, with a prevalence of 91.11% of infection and, the intensity was 2.65. Molecular analysis was carried out on thirty individuals who have examined the morphology and showed some appearance differences, by amplifying internal transcribed spacers ITS and ITS-1 of nuclear rDNA (rDNA) by PCR using the primer sets NC5/NC2 and SS1/NC13R of thirteen DNA products. Evolutionary analyses were conducted in MEGA X. based on the identity percentage in the GenBank database showed that they belong to anisakid nematodes, in particular, they belong to eleven distinct taxa within the Hysterothylacium Ward & Magath, 1917 (Rhabditida, Raphidascarididae) and one identified species H. amoyense (Hsü, 1933) Deardorff & Overstreet, 1980. The current study records eleven species that belong to a genus of Hysterothylacium; some of the alignment of sequences polymorphisms reveals new different individuals of larvae species that may be adopted as new species if their adult stage is detected, and N. japonicus fish considered as a new host record. The current study provides some insights on the systematic taxonomy of these parasites, in addition, it supports similar studies that have been published elsewhere.


Downloads
Download data is not yet available.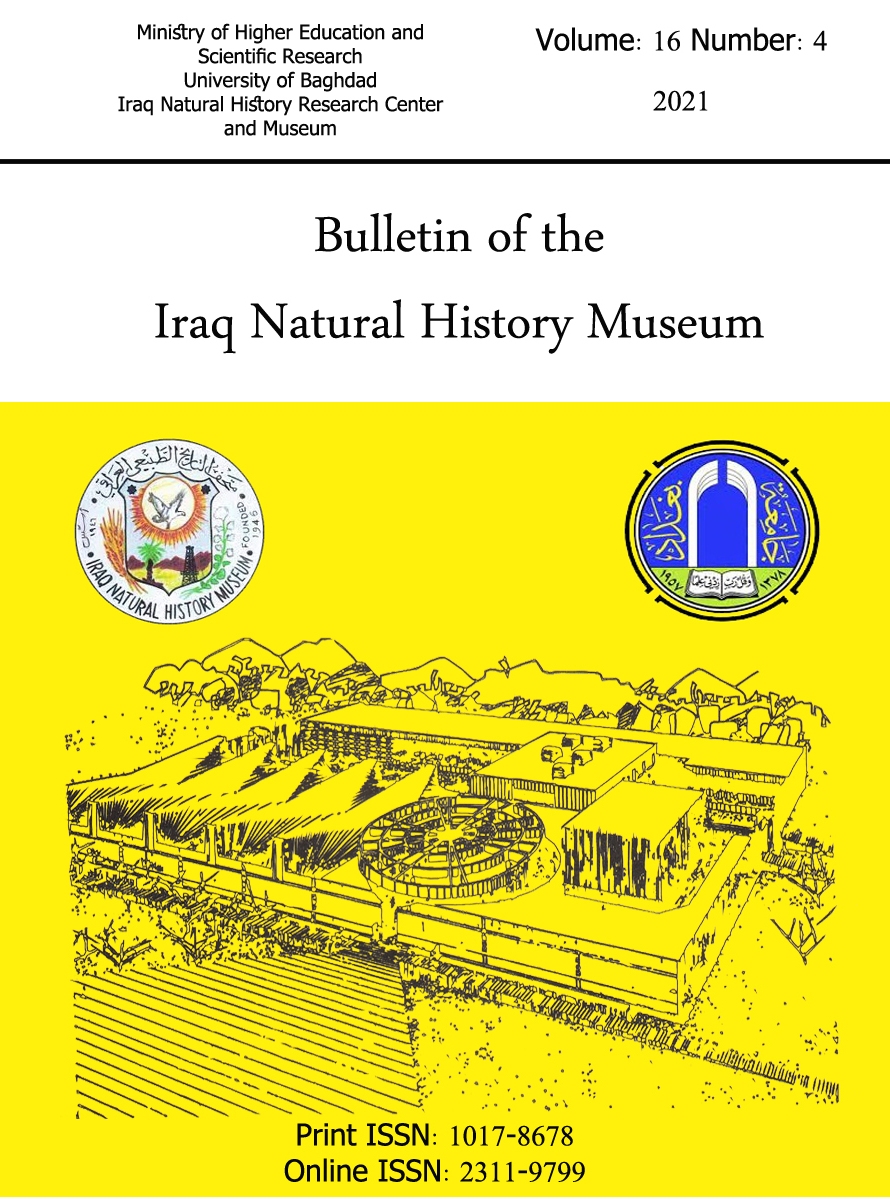 Downloads
License
Copyright (c) 2021 Bulletin of the Iraq Natural History Museum (P-ISSN: 1017-8678 , E-ISSN: 2311-9799)
This work is licensed under a Creative Commons Attribution 4.0 International License.