IMPACT OF THARTHAR ARM WATER ON COMPOSITION AND DIVERSITY OF COPEPODA IN TIGRIS RIVER, NORTH OF BAGHDAD CITY, IRAQ
Keywords:
Biodiversity, Copepoda, River Confluences, Tharthar Arm, Tigris River.
Abstract
This study is considered to be the first on this sector of Tigris River after 2003, to evaluate the effect of Tharthar Arm on the composition and diversity of Copepoda in Tigris River. Six sampling sites were selected; two on the Tharthar Arm and four sites along the Tigris River, one before the confluence as a control site and the others downstream the confluence; thirty-five copepod taxa were recorded, 34 taxa in the Tigris River and 25 taxa in the Tharthar Arm.
The highest density of Copepoda was in site 2 at Tharthar Arm was 265584.2 Ind./m3 lead to an increasing in Copepoda density in Tigris River from 63878.2 Ind./m3 in site 1 before the confluence to 127198.3 Ind./m3 in site 4 immediately downstream the confluence. Also, the mean values of richness index and diversity index increased from 1.71 and 0.98 bit/Ind. in site 1 before the confluence to 2.08 and 1.00 bit/Ind. in site 4 below the confluence, respectively. Moreover, the highest similarity percentage was between sites 3 and 4 reached 87.83% while, the lowest percentage was between the sites 1 and 2 recorded 65.41%. For constancy index the highest value was 9 at the site 6 whereas the lowest value was 2 at site3.


Downloads
Download data is not yet available.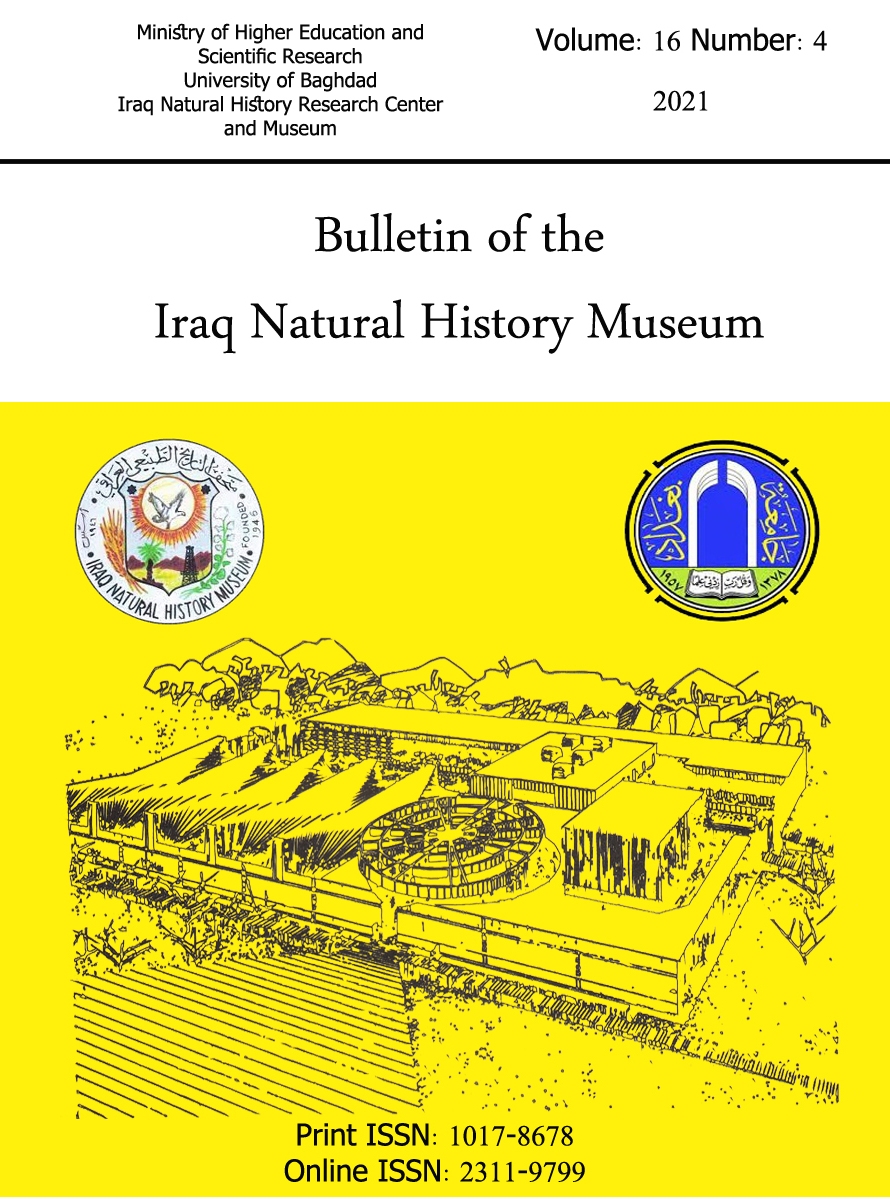 Downloads
License
Copyright (c) 2021 Bulletin of the Iraq Natural History Museum (P-ISSN: 1017-8678 , E-ISSN: 2311-9799)
This work is licensed under a Creative Commons Attribution 4.0 International License.